Our industry is dynamic and constantly evolving, and each day brings new opportunities. We are focused on continuing to innovate and lead the sectors in which we operate towards a more sustainable future.
Our priorities are clear – we are guided by what is best for our People and our Planet, in alignment with our unwavering Principles.
Our People
Our people are the heart of Quanta and what differentiates us from our competitors, and we are committed to the health, safety and well-being of our employees, customers and communities.
To ensure employee safety, we have incrementally invested more than $100 million in workforce development and training initiatives. These include building the Quanta Advanced Training Center, a world-class facility located on a 2,300-acre ranch in La Grange, Texas, as well as acquiring and expanding the largest accredited line worker college in the country, Northwest Lineman College (NLC). NLC currently has four campuses throughout the country, with plans to continue expansion. We commit time, resources and innovation to these measures not only for the sake of Quanta's workforce – but to raise the level of safety and training for the entire industry workforce.
We are continuously advancing our safety and training programs – in order to ensure a safe and qualified workforce for Quanta and the industries we serve. To that end, we developed a new safety program, which has been implemented at our operating companies and has been embraced by a number of our customers. The program was created in partnership with several industry safety experts with the goal of reducing serious and life-ending events.
One significant event on a job site is too many. We are dedicated to changing the way work is performed, through training and safety innovations, to help ensure safe work environments across the industry.
In 2011, we implemented an industry-leading Automated External Defibrillator (AED) program. Quanta's AED program is designed to provide equipment and training to our employees to enhance life-saving response measures in the case of sudden cardiac arrest in the field. We deploy an AED on each of our job sites across North America, which has resulted in numerous lives saved, including those of bystanders and customers.
In 2017, in the wake of Hurricane Harvey, we established Quanta Cares, a non-profit to support Quanta employees impacted by that storm. Employee donations, matched by the company, initially totaled $1.3 million. Since then, the fund has grown and expanded its mandate and has raised more than $1.8 million to support employees impacted by other catastrophic events.
And our commitment goes beyond our Quanta employees. With operations throughout North America, we generously give back to the communities where we work and live by donating millions of dollars and volunteering thousands of hours to various non-profit organizations. We focus our efforts primarily on supporting our future through causes that improve education and benefit children – and we choose our charity partners intentionally, to align with the company's values.
Our Planet
Much of our work takes place outside. Quanta has a reputation for strict compliance with environmental regulations and being a responsible steward of the environment on each job site. As a result, we are often selected for some of the most environmentally sensitive projects: renewable electric transmission projects designed to meet renewable portfolio standards, utility work that supports system modernization and efficiency programs and natural gas pipelines constructed to reduce carbon emissions and support growing renewable generation. Several of our customers rank as top sustainable companies, which is in part due to the environmental and technological support we provide.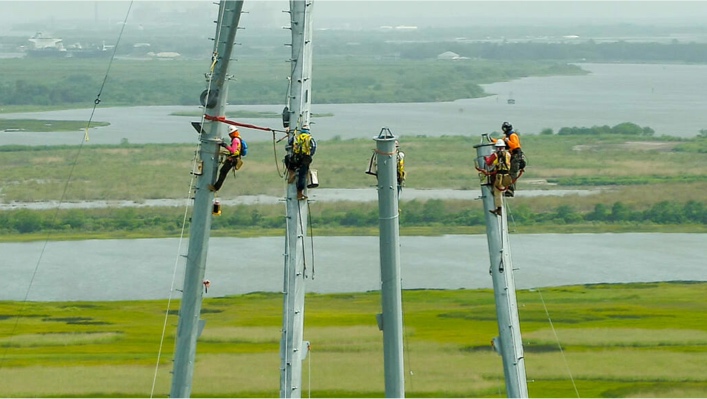 We have included in this report several examples of recent projects where we completed the work on time, on budget and with excellent safety and environmental records.
We also have implemented innovative environmental programs, including partnerships with multiple utility customers to recycle thousands of pieces of electrical infrastructure equipment per year. We continue to work hard to develop initiatives to improve efficiency and reduce the carbon footprint of our equipment and facilities.
Since 2013, we have worked to develop an extensive wildlife management plan at the Quanta Advanced Training Center on the Lazy Q Ranch. We have successfully re-introduced several species of native birds, mammals, reptiles and amphibians on the property, and have rehabilitated multiple varieties of natural flora. This work has brought a pair of Bald Eagles to nest on the shores of one of our man-made lakes. We also have encouraged local farmers to continue tending land on our property in exchange for supplemental wildlife feed.
Our Principles
We are committed to sustainable governance principles, which stem from our core values and include a robust ethics and compliance program that is applicable to all Quanta employees.
Our core values guide everything we do. They are:
Safety Always.
Exceptional People.
Differetiating Solutions.
Entrepreneurial Culture.
Our values are not just words on a page. We live them daily. They are inspired by our people, ingrained in our culture – and they motivate every action we take.
We take our responsibility to contribute to a more sustainable future seriously, as demonstrated by a dedicated management corporate sustainability committee, which has executive-level support and guidance; oversight of our corporate responsibility and sustainability matters by a diverse and experienced Board of Directors; and by linking executive compensation to successful performance of key sustainability metrics.
As our company continues to grow, so will our commitment to positively impact the world around us. We are focused on operating the business for the long-term and expect to continue to distinguish ourselves through safe execution, best-in-class field leadership and innovative solutions. We will continue to think differently, grow and evolve as a sustainable company, committed to our people, our planet – and led by our clearly defined strategy and unwavering principles.
Thank you for your trust and confidence in Quanta Services.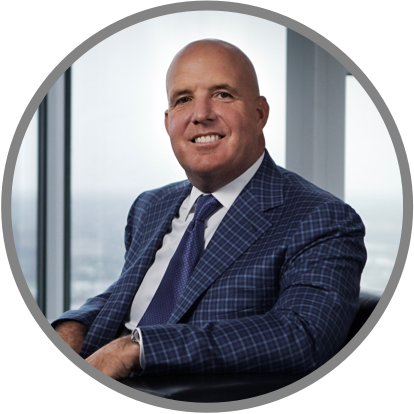 Earl C. "Duke" Austin, Jr.
President & CEO
Quanta Services